About Us
---
Our mission is to provide professional police services in partnership with the community we serve. Through our words and our actions, Emory Police Department strives to be an engaged partner and informed leader in the field of higher education policing. 
Emory Police Department Values
Trust
We treat people with dignity and respect, fostering a safe and inclusive campus for all.
Transparency
We post crime data and have simplified the process for sharing feedback on how we serve the community.
Community Partnership
We are cultivating lasting relationships through candid and consistent communication and community outreach.
Procedural Justice
We adopt nationally recognized best practices designed to increase confidence in our work and our officers. EPD strives to be a leader in the field of higher education policing.
EPD Serves and Protects:
15,000 students
15,000 faculty and staff
20,000 Emory Healthcare employees
170 Emory/Atlanta campus buildings
28 Emory/Oxford campus buildings
6 Midtown campus buildings and 3 parking garages
View our interactive campus map
Additionally, EPD officers protect the Emory National Primate Research Center.
Our Team
43 sworn officers who serve the Emory University, Oxford College, and Emory University Hospital Midtown campuses
28 administrative staffers
Gender and Ethnicity (Sworn Staff)
Jurisdiction and Law Enforcement Partners
Our jurisdiction spans DeKalb, Fulton, and Newton Counties, covering 500 yards beyond our campus borders. EPD's sworn officers partner with the Atlanta Police, DeKalb County Police, the City of Oxford Police, and other law enforcement agencies to serve the greater Emory community. Each department is committed to working together, keeping each other apprised of important information about crimes and crimes trends.
EPD also provides management oversight for electronic security systems (access control, alarms, and CCTV systems) and physical facility security services within the university. 
Diversity
Our department seeks to uphold the dignity and rights of all through fair treatment, honest dealing, and respect. Like our diverse Emory community, EPD strives to set high standards for law enforcement, including recruiting and retaining individuals from diverse backgrounds. 

Connection
Follow @EmoryPolice on Facebook, Instagram, TikTok and Twitter. 
EPD Leadership
---
Our Team
EPD leaders are committed to fostering a safe and inclusive campus for all. Our goal is to set a new standard for campus law enforcement through strong community outreach and procedural justice. 
MEET OUR LEADERSHIP TEAM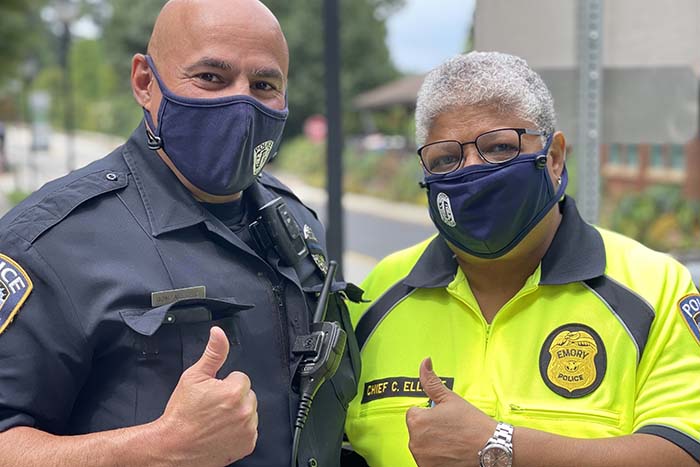 Request Service
To request police, EMS, fire, or other services:
Emory Precinct and Headquarters:
1784 N. Decatur Road
Suite G01
Atlanta, Georgia 30322
402 W. Moore Street
Oxford, Georgia 30054
478 Peachtree Street
Suite OL812
Atlanta, Georgia 30308